"Eat From Farms is the AFFORDABLE website and farmstore builder we needed!"

Join the many farmers reaping the benefits of our system...


---

We designed our EFF
software just for you!
It's easy to use - no computer tech staff is required. 
All you need is an internet connection. 

Make changes to your website or your inventory any time. 
Live updates occur as soon as they are saved.
Turn seasonal products on or off with just a click.

Having trouble or need some advice to get started?
Answers to your questions are free, friendly,
and just a phone call or email away.
"Farms have unique challenges when it comes to online marketing and Eat From Farms has really helped us tackle those. Their platform can handle anything from variable weight packages to home delivery to online Farmers Markets.
Online stuff usually stresses me out but George really helped me get everything up and running smoothly. EFF is easy to set up, easy to use, and I feel it's by far the most affordable, farmer-friendly option for a small farm like ours."
Kelly - Quarry Brook Farms
---

✔️ BUILD YOUR WEBSITE
Our EFF platform makes it easy to develop an attractive, mobile-friendly website with a fully integrated shopping cart.

Or link your current website to our EFF shopping cart system.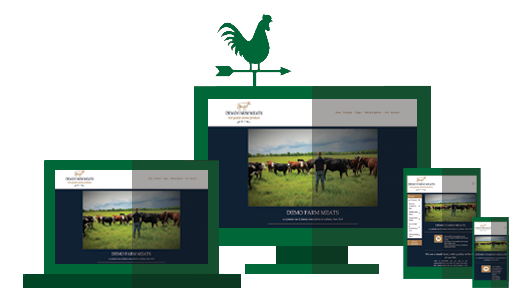 "The EFF platform has helped our beef operation to improve our professionalism, AND to also expand and grow our business."
Jane - Pickhead Cattle

---

✔️ STOCK YOUR FARM STORE

A missing shopping cart = MISSED SALES!

Give your customers the opportunity to order from you 24/7.  Then process their orders at your own convenience.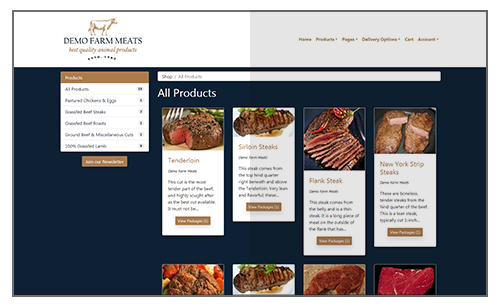 "EFF has facilitated many new sales opportunities for us.  Our customers love the ease and efficiency of using our on-line ordering system."
Eva - St. Croix Farm
---

✔️ WORK SMARTER, NOT HARDER

Farmers use EFF to add convenience for their customers and for themselves.


Ordering and order processing become much more organized and automated, dramatically reducing the juggling of phone, email, and text messages.



"EFF greatly simplified my bulk beef sales with online orders for deposits, then online invoices to pay the remaining balance before pickup."
Claire - Skeeter Creek Farms
---

Are you ready to start growing your sales?
Learn more about Eat from Farms and how it can help your business:


---
Who uses Eat From Farms?

Is this system right for my business?
We designed EFF to handle the unique needs of most farms. 
Our system is so VERSATILE that it is successfully used by:  
✔️  Meat Farmers & Ranchers

✔️  Produce Farmers

✔️  Dairy Farmers

✔️ Farmers Markets

✔️ Full Service Farm Stores

✔️ Buying Clubs

✔️ Artisan Food Makers

✔️ Craft Vendors

✔️ And many more...
"
The EFF system works very well for us and is so easy to use. I get compliments from customers + it makes my life a lot easier!
"
Carrie  - May Hill Farm

"
EFF is a great way to grow your farm!  Simple to use for both farmers and customers.
"
Sandy - Wind Drift Farm

---


OUR MISSION
...is to provide a system for farmers to easily
connect with their customers and improve their sales. 
Buying farm food should be as easy as
buying anthing else these days...
Online ordering with our EFF platform makes this possible!


LET EFF DO THE WORK FOR YOU
Call us with any questions, any time of day. 
518-326-1638 (no texts, please)
A quick phone conversation with George
can determine how EFF will work best for your farm's needs!
---
Join the many farmers reaping the benefits of our Eat From Farms system.
Increase your farm sales for 2020... and beyond!