We're LIVE at the MOSES Organic Farming Conference - Growing Stronger 2021!
February 23, 2021
  
Visit our virtual booth at the conference ...
https://mosesorganic.org/conference/
February 23-26, 10:30am CST
We'll give a LIVE INFORMATION PRESENTATION about our Eat From Farms software!
You'll get to see a sample online sales website as well as a behind-the-scenes view of how our system works. 
We'll answer all your questions and chat with you about how EFF can help grow your online food sales business. 
DON'T BE SHY...
Join us by clicking this "Join Virtual Booth" button on our exhibitor page and let us know you're here!

It's ok if you're too shy to live chat... you can simply leave us a message! 
We have lots of information in our booth for you to peruse as well. 
PLUS we have a coupon for attendees of the 2021 Growing Stronger Conference: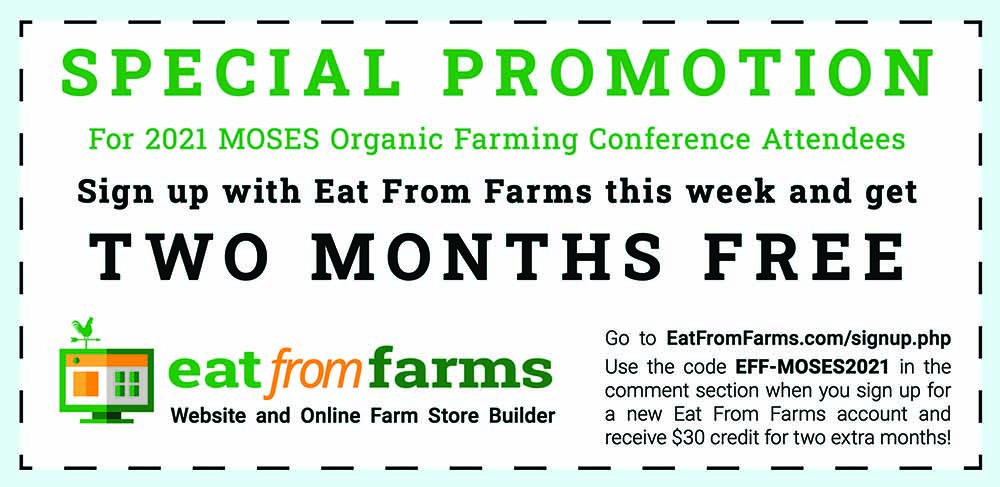 Take advantage of this great opportunity while it lasts! 
If you're a North American food producer looking to offer your customers easy, reliable, online access to your products, contact us any time!
Let's work together -
George & Alix